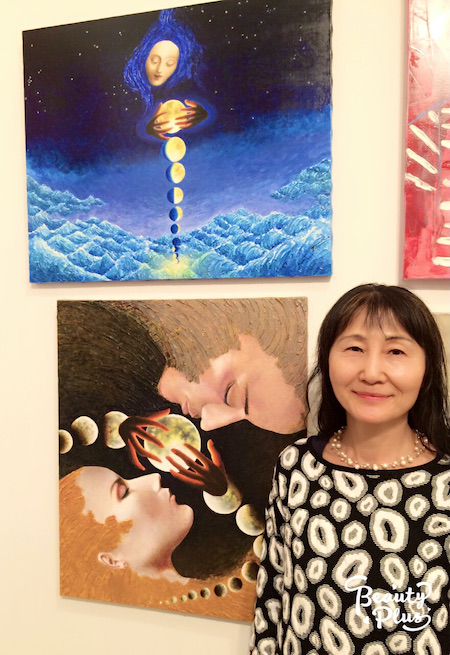 ★I was born as the only one child and my parents were teachers so I was spoiled to learn any thing I'd like to then.
I learnt painting, classical ballet, English conversation.
Then I got into the college and my major was English literature but when I was 20 years old I decided to be an artist strongly so I entered the fine art university in Kyoto.
My major was art printing and it was a
contemporary art but I came to know the stuff I used for it caused environmental pollution so I stopped it and went for traveling to Nepal.
★I got hepatitis there and later in 30's I got Malaria in Indonesia so I experienced a hard time then.
I became to be aware how important the health was.This experiences led me to do yoga, natural farming and the study about natural food later.
★After came back to Japan I decided to move to the country side of Kyoto and did natural farming and painting for Obi(Kimono)designing for money.
But I found this fee was so inexpensive compared with my labor.
This made me very much frustrated since I rarely make time for my art works.
★After 5 years one lady who has seen my art work for sometime at the gallery in Kyoto opened the gallery in Paris and she invited me to do my free solo show there.
It was a so exciting offer to me and I experienced an excellent for 40 days there.
That wonderful experience taught me that it is the most exciting way to show my art.
★15 years ago I met young Australian guy who wanted to make money teaching yoga in Kyoto. He couldn't speak Japanese at all so I became his manager and interpreter.
I also began to teach yoga by myself and it made me time to paint.
★Actually I have been interested in visiting permaculture community from younger days, then I visited KALANI in Hawaii and have worked as a volunteer for 40 days there. I visited several communities in north Ca as well.
I showed my art works prints to the people In KALANI they said to me " Go to NY!"
I naturally obeyed their advice and visited NY several times and became to be attracted by many contemporary art works there and I began to paint using acrylics on canvas.
I have challenged to do my solo shows and participated in many art fairs abroad from that time and 10 years have passed.
Selected Exhibitions
【2020】
Solo show Matsuri OsakaJapan
【2019】
The Other art fair in Melbourne Australia
Affordable Art fair in Singapore
【2018】
Infinity Japan Contemporary art show at Nikko Taipei Hotel, Taipei Taiwan
【2017】
Group show Azabujuban gallery  Tokyo
Buenos Aires Art fair at Laura Haber gallery Buenos Aires
Solo exhibition "Sacred Journey"  at Tamadedo gallery Osaka
Clio art fair N.Y. ,U.S.A.
【2016】
Solo show, Amrita gallery, Osaka
Art event "Fusion-East and West" Mid town NY USA
"LIFE" at NOHO M55 gallery NY  U.S.A
Solo show at Ashok Jain gallery, NY  USA
【2015】
 Solo show at Ashok Jain gallery NY  USA
【2014】
 Solo show at Spectrum gallery Osaka Japan
【2013】
  Art Santa Fe    New Mexico, U.S.A,
Solo Exhibition at Spectrum gallery  Osaka Japan
【2012】
NY Art Expo.  by Kitai gallery Tokyo   NY U.S.A.
Three Artists show at Japan Friendship Garden, Balboa Park San Diego  USA.
Solo Exhibition at spectrum gallery   Osaka  Japan
【2011】
Japanese Contemporary Art Exhibition at Agora gallery    NY  USA
NY art expo by Kitai gallery Tokyo    NY  USA
Art San Diego 2011  San Diego  USA
Solo Exhibition at Gallery Amrita    Osaka  Japan
【2004】
Solo Exhibition at  Kathmandu Royal Academy   Nepal
Solo Exhibition at Lee gallery   Paris,France
Japan  Art in Hungary  Hungary
【2003】
Kyoto International Community exhibition  Kyoto
【Education】
1975  B.F.A.    Kyoto City University of Arts
1977 M.F.A.    Kyoto City University of Arts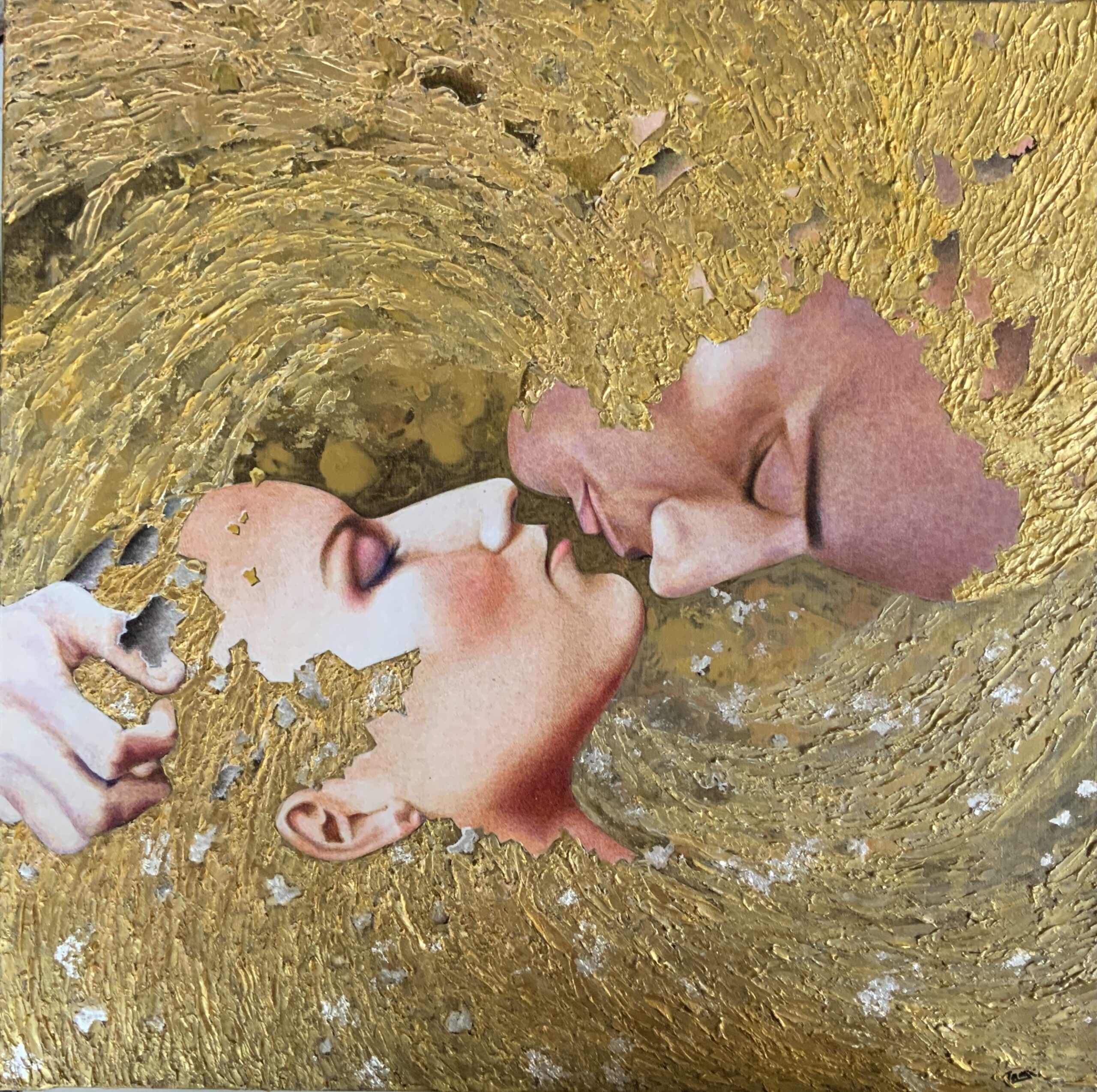 1994〜2000
Tominaga was impressed by the nature, religions, costumes and the medieval feelings of the streets of Kathmandu Nepal and painted her mind effected by them as the mysterious visions from the sceneries there.
She also expressed the impressions from the experiences in Bali and Lombok Irelands.
Those works are made by the Japanese traditional classical method of paintings called "Nihonga" on rice paper using natural pigments.
2009〜
She visited Hawaii 3 times and stayed in permaculture community and she found she must visit NY to begin her contemporary art.
And she has challenged to participated in many art fairs and done her solo art shows there and in the world.
After her many experiences having participated in the art fair in Santa Fe,NY,Buenos Aires,Taipei,Melbourne,Singapore her concept has changed a lot.
She depicts the instability in human relationship as well as existence in this world.
Another strong elements of her paintings are the particles which spread around the bodies of her subjects.
They are quantum which always moves and changes same as the existence of human beings.
They appear and disappear again and again.
That endless dramas of the patterns are the big mysteries.
She expresses the mystery of human existence and the Universe's cycle as well.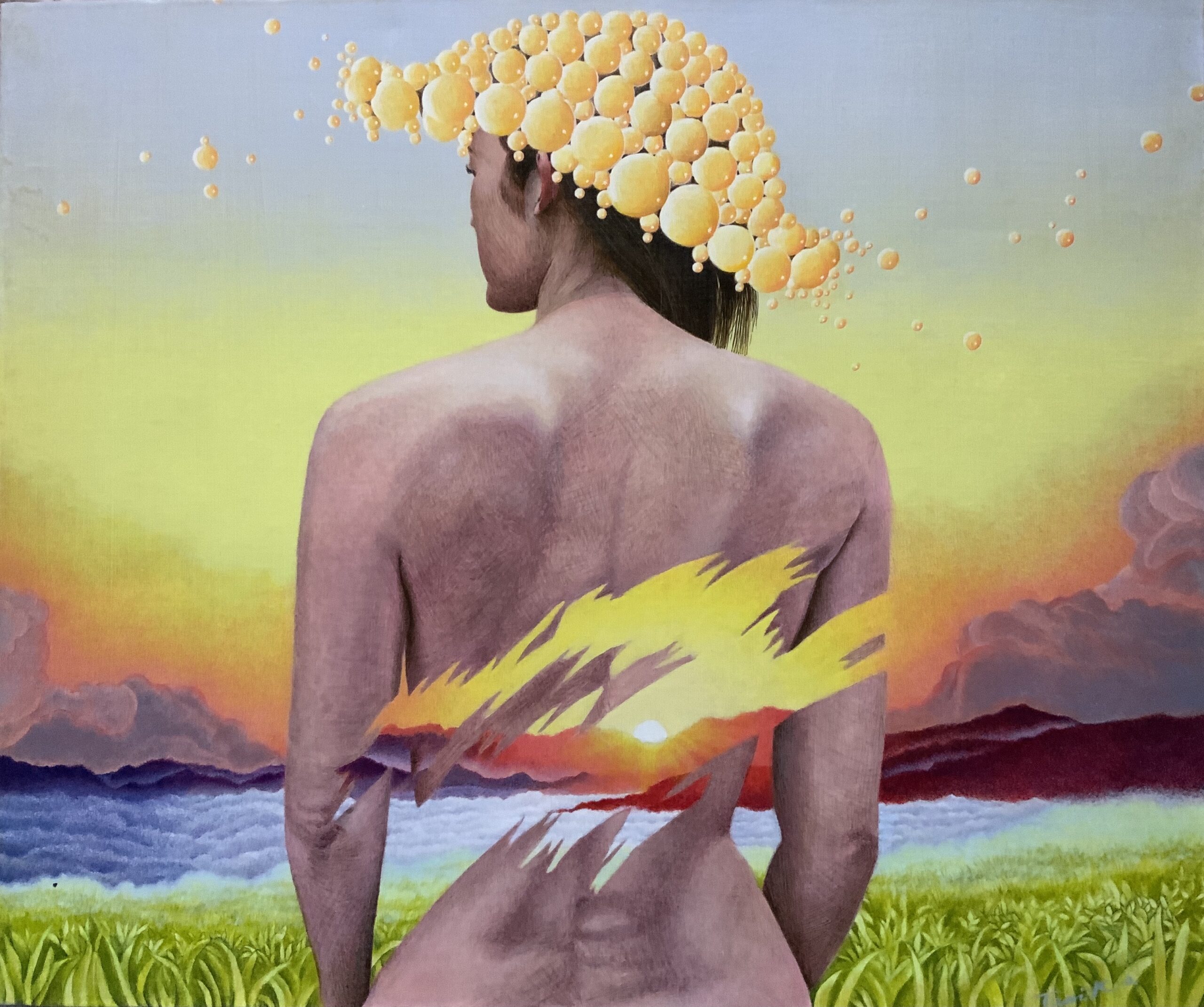 Tamiko Tominaga
Art Works
1991年〜2000年
I painted the visions which came from the experiences in Nepal and Tibet on the rice paper by natural color called Nihonga(traditional Japanese classical way of painting)
2015年〜
By the visit to NY I began to make the contemporary arts.
I paint by using acrylic on canvas.
So enjoy the varieties of my art works!